Where Does the Time Go?
Where do you spend your gift of time?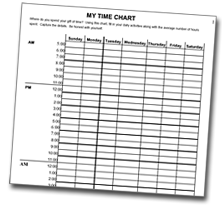 Click here, and you will open another window with the TIME TOOL.
Print it out and fill it out.
Using this chart, fill in your daily activities along with the average number of hours spent. Capture the details. Be honest with yourself. Listen closely, your heart will show you the way.
You will need the free Adobe Acrobat Reader.


Click here, or on the icon to your right, to download Acrobat Reader.